2012 Poetry Chapbook Contest Winner
selected by Cole Swensen:
The Everyday Maths
by Liat Berdugo

Poetry
50 pages

Paperback: $10
Audiobook: $5.99
PDF: $5.99

ISBN: 978-1-939781-03-1
The printed edition of The Everyday Mathsis so engaged with the visual elements, the audiobook will have specially composed musical interpretations. From the author: "I'm working with a brilliant composer and multi-media artist Peter Bussigel to create sonic elements / interpretations for the diagrammatic elements of the page that will weave through each piece."
Praise for The Everyday Maths
Liat is a master of the non-sequitur, knowing just how to put two completely unconnected statements together in a way that reveals their complete affinity. Inventive, humorous, and very, very smart, this is a book truly like no other—and a sheer delight.
—Cole Swensen
From The Everyday Maths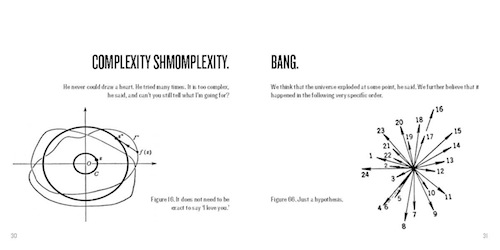 Click image to enlarge
---
Liat Berdugo is an American artist and writer whose work focuses on the strange, delightful and increasingly ambiguous terrain between the digital and the analog, the online and the offline, and the scientific and the literary. She has performed throughout North America and her work has been exhibited in galleries and festivals internationally. She studied mathematics at Brown University before returning to Providence to pursue her M.F.A. in Digital + Media at the Rhode Island School of Design. More at http://digikits.ch.