2012 Innovative Translation Chapbook Contest Winner
selected by Christian Hawkey:
Mystérieuse 
by Éric Suchère
translated by Sandra Doller

Poetry/Translation (French)
28 pages

Paperback: $10
Audiobook: $5.99
PDF: $5.99

ISBN: 978-1-939781-04-8
Praise for Mystérieuse
"An act of obsessive ekphrasis and aleatory transcription, Éric Suchère's Mystérieuse mirrors, in its procedural elegance, the intermedial space of comic books, a form that hovers between writing and drawing, word and image. With Sandra Dollar's beautifully paced translation from the French, itself attentively redrawn on the page by graphic designer Sarah Seldomridge it becomes clear that delight proliferates—the raison d'être of translation—when media jumps thru media."
—Christian Hawkey
From Mystérieuse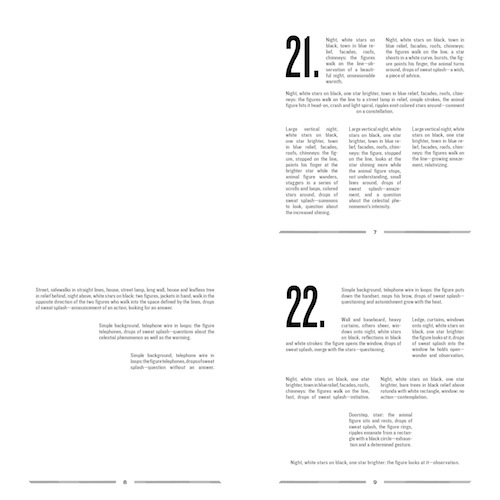 Click image to enlarge
---
Eric Suchère is a poet, writer, art critic, and art historian. Based in Paris, he is the author of many books of conceptual prose and poetry and a major player in contemporary French letters. His works have been translated into English by Lisa Robertson and Carrie Noland.

Sandra Doller
's books are
Oriflamme
(Ahsahta, 2005),
Chora
(Ahsahta, 2010), and
Man Years
(Subito, 2011). Newer projects include a forthcoming prose chapbook from CutBank called
Memory of the Prose Machine
(2013), part of a longer book-length and performance piece. The founder & editrice of
1913
, Doller lives in San Diego with man & dogs.